Many businesses worry about the correct kind of advertising and marketing to increase the brand value of their products or services. Excellent content on your website can do wonders in your online marketing approach. If a business has simply published a website, there needs to be an effort to promote it since by doing so the business would have the ability to make sure that its merchandise is visible in cyberspace.
A business might have a great website yet no one is even aware it exists unless it is promoted. Promoting a website is a multiple-layered task. The companies can use basic marketing tools such as Ahrefs. Semrush, Moz, Ubersuggest, and many more. This is where the concern of investing can be found in.
Usually, a lot of resources are required for marketing a website. Online Marketing is normally pricey and oftentimes not feasible for a new business. The online marketing software program gives quick and also inexpensive on-site advertising solutions but it's not worth it because it causes spammy work.
How to Promote Your Website on Google Search for Free
The first thing I want to discuss is Google's Local Search Engines. e.g. Google.com, Google.com.au, co.uk, co.in, as well as lots of others. It is extremely vital to choose ahead of time whether your website requires a worldwide or local exposure. This merely depends on your company or solution. Google very advises promoting your website depending on its location. If your website manages a local particular service or product, you must concentrate on promoting your site with Google's respective local search engine. The core factor behind this is to bring your site targeted traffic.
Website SEO
The most fundamental part of your SEO is your website itself. It's not your web links, your social visibility, or your marketing technique, they are simply sustaining your website. You require to give even more interest in the optimization that you do on your website.
There are numerous things that you can do to optimize your site, from transforming your website structure, eliminating dead links, keeping a great keyword, and more. However, without an appropriate tool to examine your site optimization elements, you are left in the dark, without understanding what you require to do to improve your site ranking.
Focus on the Website Title –  (It must be under 70 Characters) (Cover Your Targeted Keyword in the Title)
Focus on the Meta Description – (It must be under 160 Characters) (Cover Your Targeted Keyword in the Meta Description)
Optimize Images with "Alt Tags"
Use Internal Linking in Website Contents.
Create a Sitemap.xml File (Guideline)
Create Robots.txt File (Guidelines)
If don't know all these, just simple any expert SEO services provider company to optimize all the things perfectly.
Setup Google Search Console
Google Search Console is the priority step to examine your website's health and how it will perform over Google.
Go to Google Search Console.
First, you will need to log in via your Google Account. If you don't have a Google account, you will have to create one before you can continue.
Once you have logged in, click the "Add A Property" button at the top of the page.
Enter the URL of your website, then click continue.
Next, you'll be asked to verify that you own the website in some of the ways
Prefer this Way:
Index Website Pages
Google discovers new web pages by crawling the website, and then they add those web pages to their index. You can do this indexing process via Google Search Console.
Here is the way:
Create Social Media Pages
Facebook, Instagram, Youtube, and many more let you promote your brand with Pages. Don't confuse your personal profile with your business page profile because it's a violation according to guidelines.
Here's what you need to set up your pages:
Profile Photo (Business Logo)
Wall ("Cover") Photo
Page name
Location
Hours of operation
Type of business(Category)
Summary of your business
Website Link
Contact Email
Address
Here are the Examples of Official Verified Business Pages:
Social Media Marketing
Social media marketing includes activities like posting text and images, videos, and other content that relate to your service or products which drives audience engagement and traffic to your website. 
Invite Friends to Like Or Follow your Page.
Post Eye Catchy Images, Content, Videos Regularly to Drive More Traffic to Your Past.
Connect with Related Public Group & Post.
Connect with Related Pages and Convenience to Share the Posts.
Try to Get Some Positive Reviews on Your Business Pages. 
Google My Business Page Setup
Allow's face it, if your company isn't on Google, you don't exist. Did you know that more than 90% of all search engine website traffic is coming from Google? Today, individuals don't bother memorizing much of anything, as well as truly why should they? It's all on Google.
How many times have you searched for a company on Google, and also off to the right is a box with a map of where the business located, the contact number, hours of work, image, and even a link to their website. It's like Google wishes to give every organization a totally free ad.
How Do I Get a "Google My Business" Listing for My Company?
Okay so, now you are asking yourself, "exactly how do I ensure my service has a box listing at the top of the Google page when someone searches my company?" Well, this is a simple component. As a matter of fact, it's so easy you are most likely to ask yourself; "why didn't I do this before?"
Let's take you via simple steps. But first, you need to create a Gmail account and if you have already account then simply go to this page: https://www.google.com/intl/en_in/business/
After that, you need to visit Google My Business Page and also click the "Manage" button and it will take you via all the steps needed. Their system sends you confirmation code, simply wait until the confirmation code comes before you start and adhere to the absolutely easy actions – seriously, a third-grader can do this, yeah, as well as probably much better than any of us?
As soon as you have your listing you will certainly additionally have a company account web page when you log in. Merely edit the details you want to appear on Google when individuals look for your organization. You can customize Your "Google My Business" listing and also add your:
Business Category
Website Link
Contact Number
Address
Hrs of Operation
Logo, Cover Photo, Photos Of Your Organisation, and More.
Description of Your Business (Must Use Your Business Keywords)
Try to explain all the things in details and unique. You can also take some reviews from your clients once they like your services.
Example of Google My Business Page – Once it's Published: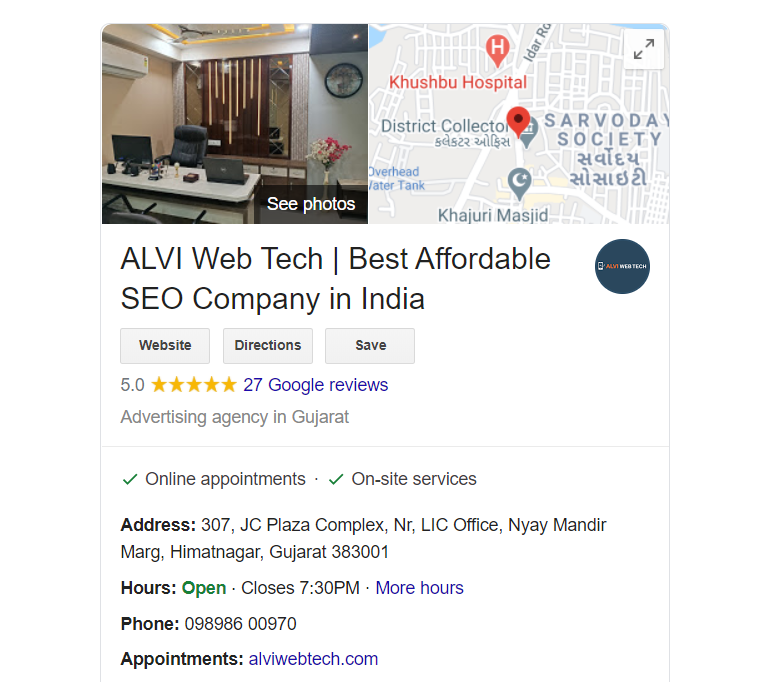 Focus on Quality Content Writing
High-quality content writing can completely change exactly how a visitor communicates with a website and brings about the audience bookmarking as well as returning often. People are browsing the web every millisecond searching for details. If it is your particular niche they are searching for, you want to ensure they linger once they locate you.
Blog Posting on The Website
If your website is providing online services then you need to create one separate blog page on your website where all blog content will be listed under the page. Write content regularly on trending topics and try to give solutions to the user and explain how your services are good for them.
Regular Content Contribution Helps in:
Drive Traffic to Your Website.
Website Indexing & Crawling
Increase Website Authority
Decrease Bounce Rate
Chances to Get More Leads
Focus on Link Building
Link building aids to relate search strings to web pages and also is an effective strategy for the appeal of a website. Hyperlinks give instructions to search engines to aid users to look at the content they are seeking on the web. Search engines continuously redefine the algorithms and also make use of web link information to do website evaluation relative to a search query.
For more information please read our article: 
If you want to take our expert help in link building services then please contact us and will give you a solution as per your needs.